Our Riders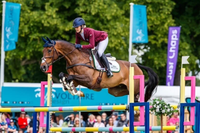 Yasmin Ingham
Yasmin has competed up to 5* in eventing, placing 2nd at Kentucky in 2022! 
Later in the year, Yas represented Team GB in Aachen at the Nations Cup winning team Gold and individual 12th. 
Yas and Banzai Du Loir have just been selected for Team GB at The World Championships in Pratoni - Italy.
In 2021, Yas won the 4*L at Blenheim on her ride Banzai Du Lior. The combination were also the 2020 Winner's of the 8/9 year old British Championship.
Isabele English
Isabel is an Australian event rider who has competed up to 5* in eventing including at Luhmuhlen, Strzegom and Badminton.
She is currently based with Kevin and Emma McNab at the picturesque yard, Coneycroft Farm- Surrey.
Isabele's short term goals are to ride at the Nations Cup CCIO4* 2021 and to get to the Le Lion Young Horse World Championships 2021.
And her long term goals are to ride at the Paris Olympics 2024 and to get to the World Equestrian Games 2026.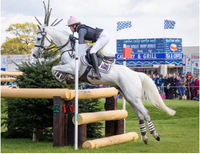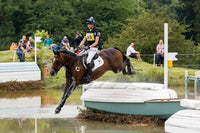 Harry Horton
Harry is a event rider based on the Essex/Hertfordshire border. Having studied at Hartpury College where he was on the equine academy, Harry went on to work and ride for Helene Braeckman, who had previously evented internationally at the highest level. It was here, that the dream started to become a reality.
For the last 4 Years Harry has run his own yard of 10 horses, all at different levels ranging from 4 year olds up to Advanced Horses.
This year, Harry is aiming for Blenheim 4*L on his ride Vivendi Cruise.
Amy Leggett
Amy has won and competed in young horse classes and young rider classes through to 150cm class and Grand Prix. Competing at some of the best Showgrounds in England and Europe; including Zangershire, Z Tour, Liverpool International, Bonheiden, Lier, Atlantic Tour, Bolesworth - just to name a few of her favourites!
Now looking forward to continuing with a new team of homebreds.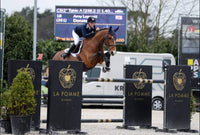 Emily King
Emily has competed up to 5* in eventing. She took Silver medalist position at the Junior Europeans and Gold medalist position at the Young Rider Europeans. Emily has also claimed the U21's and U25's National Championships title.
Elliott Dowler
Elliott is a showjumper, based at his our own yard in Bury St Edmunds with incredible facilities.
He has a great up and coming string of showjumping horses that he competes both on the national and international circuit.
Elliott's best horse is now 9 and he has produced him through the ranks from a very green 5yo from jumping 1m to now jumping 2* world ranking classes.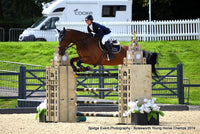 Brands