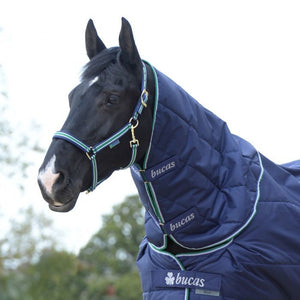 Bucas Quilt Neck
Regular price £40.00 Sale
Bucas Quilt Neck Cover 
The optional neck cover is designed to be used with the Bucas Quilts which are available in either 150g or 300g weights to provide a complete quilt.  
How to choose a Bucas Combi Neck is one of the most commonly asked questions to us here at Bucas, here's your guide!
Combi Necks are available in XSmall, Small, Medium, Large and XLarge.
XS Combi Neck will fit a 115cm – 120 cm / 5'0 – 5'3 / 60″ – 63″
S Combi Neck will fit a 125 – 130 cm / 5'6 – 5'9 / 66″ – 69″
M Combi Neck will fit a 135 – 140 cm / 6'0 – 6'3 / 72″ – 75″
L Combi Neck will fit a 145 cm / 6'6 / 78″
XL Combi Neck will fit a 155 – 170 cm / 6'9 – 7'2 / 81″ – 86″