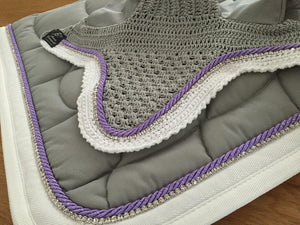 Grey & Lilac Show Set
Regular price $200.00 Sale
This set comes in colour 25 Grigio, Grey with Double White Binding, one row of Lilac piping and one row of Swarovski Crystals. The Anna Scarpati Saddle Pads & Fly Veils are renowned throughout the world for their second to none quality workmanship and quality materials as one of the highest quality saddle pad selections available. Top quality craftsmanship paired with details like elegant piping, borders and crystal options makes each piece truly special.
Please note 6-8 week delivery as this is custom handmade in Italy.
Soft wicking and antibacterial waffle cotton on the underside of this stunning Anna Scarpati crystal saddle cloth ensures maximum sweat absorbtion and comfort for the horse. High performance padding of this Anna Scarpati customised saddle cloth creates excellent thermal insulation, softness and outstanding breathability.
This Anna Scarpati show equipment is Equiporiums unparalleled choice when it comes to show presentation of the Equiporium horses which we use as an opportunity to showcase the very best that Equiporium has to offer. Equiporium horses are highly complimented at shows in their matching Anna Scarpati show sets and are often told their horses are presented in a different league to any other at the shows. Equiporium firmly believes that if riders aspire to sell high value quality horses, apart from performance, the horses need to look premium, professional & expensive and the Anna Scarpati equipment is certainly Equiporium's best recommendation to achieve such a finish. The Anna Scarpati equipment is hand made in Italy and the result really is incomparable quality. The Anna Scarpati equipment washes & lasts exceptionally well.
You can personalise your own show set of Anna Scarpati horse & stable equipment from an outstanding range of colours, borders, piping and ropings to match your equipment to any colour scheme or sponsors branding. The final result with Anna Scarpati equipment is sure to be most impressive & well worth the effort. 
ALL ORDERS COME PLAIN WITHOUT ANY EMBROIDERY BUT SHOULD EMBROIDERY BE REQUIRED EQUIPORIUM HAS A SPECIALIST EQUINE EMBROIDERER THAT WE HIGHLY RECOMMEND AND WORK VERY CLOSELY WITH. EQUIPORIUM USE THIS COMPANY FOR ALL OF OUR OWN EMBROIDERY AND FIND THEM VERY PROFESSIONAL AND REASONABLY PRICED.