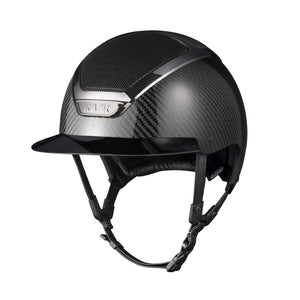 Kask Star Lady Carbon Black
Regular price £1,240.00 Sale
It's time to update your classic look with a more audacious one. This exclusive helmet is featuring a luxurious carbon shell that not only begs to be touched, but with its elegant appearance and high-tech texture, it is ready to give your look some enviable style.
ROTATIONAL IMPACT TEST WG11 - KASK created the Rotational Impact WG11 Test to provide safer helmets. An invisible layer of protection that far exceeds international norms. The independent lab tested safety protocol challenges the industry and surpasses the highest standards. With scientific background and intensive testing, KASK create head protection that outperforms even the most stringent test procedures with ease. KASK are committed to the highest safety standards for all your rides. 
VENTING SYSTEM - Based on two honeycomb-like aeration grids built in the polystyrene, a smart venting system integrated in the helmet provides high standards of cooling airflow, coping the breathability of the inner fabrics to improve the rider's physiological comfort.
SOFT CHINSTRAP - The soft, eco-leather hypoallergenic chinpad offers unique comfort and prevents skin irritations. The fabric is easily washable, water repellent, and abrasion resistant.
FIT SYSTEM - KASK is well aware that the helmet has to fit correctly to the rider's head, guaranteeing the crucial advantage in terms of safety and wearer comfort. The KASK's patented self-adapting adjusting system in carbon look, introduced for the first time in the equestrian market, allows the helmet to perfectly and automatically fit on the rider's head by gently cradling the back of the head. The high-tech carbon look of this detail highlights the design and the innovativeness of the product.
INNER PADDING - The ideal solution in order to ensure the maximum comfort and hygiene. The internal padding can easily be removed in order to wash it. Hand and machine washable at 30 ° C.