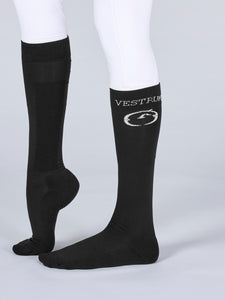 Villasimius Socks
Regular price $27.00 Sale
The Vestrum Villasimius Socks are ultra-thin and lightweight horse riding socks that are ideal for summer wear.
These unisex equestrian socks are made from a stretch cotton/polyamide/elastane fabric for a perfect fit that will hold its shape over time.
They feature lightly padded feet for optimum comfort and reinforced panels on the inner calves to enhance durability.
The thin leg provides a close contact with your horse and a smooth fit underneath your riding boots, and helps keep your legs cool in warmer weather.
The Vestrum logo knitted into the fabric in white yarn on the outer calf and lettering on the top cuff provide a branded finishing touch.