EQUIPORIUM
Premium Equestrian Equipment
At Equiporium we aim to provide quality service for our customers, to ensure a stress free and memorable experience. For our contact details please scroll down.
PLEASE NOTE : We hold minimal stock of riding hats. Hat, Boot and other custom orders do have a wait time, please contact us for a specific estimation for delivery.
UK buyers, make the most of free UK shipping on orders over £150! Please be aware that orders outside the United Kingdom, including Europe will be required to pay import duties for their purchases.
OUR STORE
We pride ourselves on our customer service - online and in store - providing a personal feel.
Come in for 1 to 1 designing of custom products including helmets, boots and show sets!
We offer hat fitting and can take boot measurements for custom made boots in store.
Located at Church Barns, Widford, Ware, UK.
Find us
The Cowshed
Unit 8 Church Barns
Ware Road, Widford
SG12 8RL
.
Monday 10am - 4.30pm
Tuesday 10am - 4.30pm
Wednesday 10am - 4.30pm
Thursday 10am - 4.30pm
Friday 10am - 4.30pm
Saturday 10am - 4pm

Contact Lauren at:
ava@equiporium.co.uk
+44 7719 073802
directions
How To Find Us
Once you get us via the address and postcode provided above, we are situated on the outside of Church Barns.
Our parking is on the outside of the buildings - marked "P" in blue, adjacent to our building with an entrance from the car park. The entrance is concealed at the end of Widford Church's fence line - NOT the main Church Barns entrance with the metal gate, the parking within is reserved for other companies on the premises.
If you are coming from Widford he entrance will be on your right and from Wareside on your left at the top of the hill.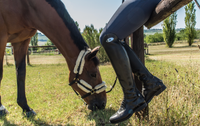 ALBERTO FASCIANI
Alberto Fasciani is widely known for manufacturing the finest riding boots in the market today and his passion for the equestrian world translates into attention for details and understanding of the riders' demands. Thus, the brand's success can be found in the combination of three simple but crucial elements: Italian handmade tradition, careful selection of the finest leathers and innovative design. Alberto Fasciani's creations can be divided into two main categories: made-to-measure riding boots and the standard collection. The made-to-measure riding boots are designed to satisfy our riders' needs and allow them to perform at their very best. The standard collection is commonly accepted as the finest and most reliable riding boots in its class. The usual comfort and reliability of Alberto Fasciani's boots can also be found as ankle boots – that our riders wear with chaps on and off their horse.
See the collection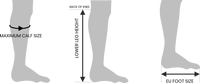 BOOT MEASURE GUIDE
For all our boots please use this guide to measure your leg. This will help us get the perfect size boots for you!